ABOUT US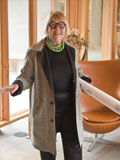 Susan Nilsson, ASID
Susan Nilsson arrived at interior design by accident. A native of Hendersonville, North Carolina, Nilsson's interest was in fashion. She attended East Carolina University where she studied Home Economics. Her dorm room was designed in black and white with zebra stripes going up the walls and orange accents. Susan loved to stay up all night creating dresses but had no interest in physics or geometry.
click to learn more...


Nancy Black
As our office manager, Nancy is the key to keeping this ship afloat. That friendly voice at the other end of the line is not only there to juggle appointments and schedule your next visit, but is the chief in charge of quoting, billing and expediting all of your orders. If Nancy does not know the answer, she is the one who can find it out!

Kathy McLennan
Kathy leads our assistant/associate design team, and has no equal in her ability to accessorize and give new life to your existing accessories though proper placement. Key to our office for all those finishing touches she is also a competent designer in her own right showcased by her patience and dedication to detail.

Myrna Harrigan
Our associate designer, Myrna, got bit by the design bug in the windy city. After running her own successful design business for the past 17 yeas in Chicago, she now resides in the mountains of western North Carolina. We are fortunate to have her on board lending her design experience and talents to our office.